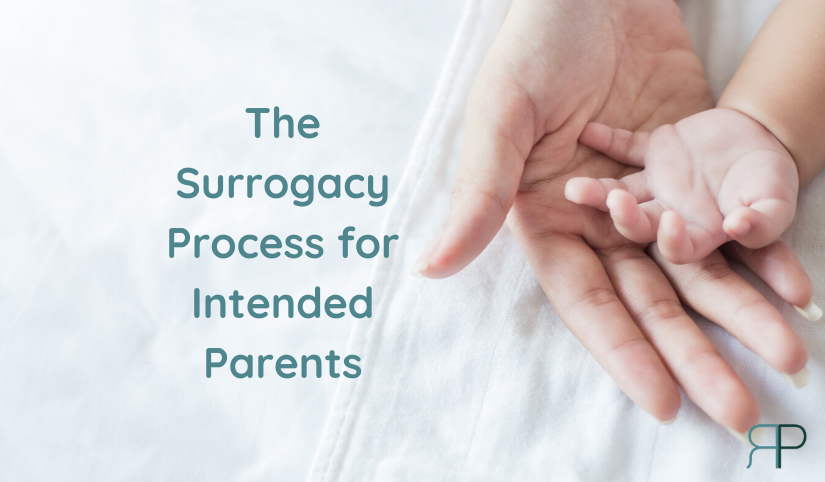 Ask any parent through surrogacy what the process was like and they will likely tell you it was a little long or complicated. While both of those statements can be true, there's a reason: the surrogacy process feels complicated because it's likely something that intended parents haven't experienced before; plus, there are many people involved, including lawyers (and many legal documents), IVF clinic staff, surrogacy agency staff and hospital staff.
Intended parents can prepare for the surrogacy process by understanding the steps in involved in their surrogacy journey. There will be times that Intended Parents are busy – creating embryos, matching with a surrogate – and there will be times when Intended Parents may feel they waiting for the next step – waiting to be matched, waiting for the baby to arrive during the pregnancy. Knowing what a surrogacy journey entails will help Intended Parents understand their role in the process and what to expect along the way.
Step 1: Consult & Sign On
If they are using a surrogacy agency, Intended Parents will most likely have a consultation with the agency about the surrogacy process and to see if the agency would be a good fit. During a typical consultation at RP, Intended Parents would meet with Melissa Brisman (the founder of RP), as well as one of the Intended Parent coordinators, who will explain the process in detail and will work with Intended Parents to figure out who and what will make them most comfortable throughout the surrogacy process.
After the consultation with the surrogacy agency, if Intended Parents would like to move forward, they would sign a Service Agreement with the agency, and their Intended Parent Coordinator will begin to assemble the IPs' criteria and preferences for their surrogate and journey, and the search for their surrogate mother would begin.
Step 2: Search, Criteria & Potential Surrogate Matches
Intended Parents will be on a "wait list" while the surrogacy agency looks for a good surrogate match. The time it may take to match with a surrogate varies, as there are many factors that can affect the wait time, including geographic, lifestyle and surrogacy preferences (for example, if Intended Parents wish for twins, this may limit the surrogates with whom they can match). Intended Parents can modify their surrogate match criteria at any time if they wish to try open up their matching preferences a bit more. IPs can speak with their IP Coordinator to change or edit your preferences.
When the IP Coordinator feels that a surrogate profile matches most of the Intended Parents' criteria, they will share the profile with the IPs. With each profile, Intended Parents are given a week to review the profile and respond to the agency if they feel the surrogate might be a good match. Intended Parents will choose either to release the profile back to the agency and continue searching or to move forward with that profile and have an initial "meeting" via phone or video call. After the "meeting", all parties will report back to the coordinator, and Intended Parents will decide again whether to release the profile or to move forward and officially match with the surrogate as their gestational carrier.
Match & Begin Escrow
Upon matching with a surrogate mother, you will open an escrow account with Surrogate Fund Management, your Intended Parent coordinator will initiate the surrogate screenings, and your surrogate's health insurance information will be gathered for review.
Screening
Your Intended Parent coordinator will initiate the surrogate's screenings and will send her medical history and records to your fertility clinic to review for approval. Once pre-approved, your clinic will reach out to schedule the full day of screening at their facility; we refer to this day as "marathon day" because it can be a full day of screenings! Travel arrangements for the surrogate and her husband/partner (if applicable) are the responsibility of the Intended Parents.
A typical marathon day screening includes: blood & urine analysis, saline sonogram, physical evaluation, tutorial on injectable medications, etc. Additional screenings include but are not limited to: criminal background check, home visit by a licensed social worker, and psychological screening done by an ASRM (American Society for Reproductive Medicine) certified psychologist.
Legal Contracts & Escrow Funding
Once the fertility clinic confirms with the surrogacy coordinator that the surrogate has passed screening and is cleared to move forward, you will begin to work on your legal contracts. The Intended Parents and surrogate mother will use separate attorneys to avoid a conflict of interest. It is preferred that the attorney representing any party must be familiar with surrogacy contracts and/or reproductive law.
When all parties align on the Gestational Carrier contract and it signed and finalized, intended parents will fund the escrow account will need to be fully funded. Once escrow is confirmed, clearance will be sent to your fertility clinic who will have your surrogate begin medications for an embryo transfer.
Monitoring & Transfer
The surrogate will be on a schedule of medications managed by the fertility clinic. She will go for weekly monitoring (bloodwork + ultrasound) for around 4-6 weeks in preparation for the embryo transfer. The monitoring facility will be located close to where the gestational carrier lives, and will work in conjunction with the fertility clinic. (Gestational carriers do not do their local monitoring at the Intended Parents' IVF clinic).
The surrogate will travel to the fertility clinic and typically will have final testing at the facility to confirm that her uterus is prepared for transfer, will receive the transfer, and will remain in a nearby hotel for 24 hours of bedrest. Travel arrangements for the surrogate and her husband/partner (if applicable) are the responsibility of the Intended Parents.
Pregnancy & Pre Birth Order
The surrogate will continue weekly monitoring at the local clinic after her embryo transfer to observe her HcG levels. Once the pregnancy has been confirmed, the fertility doctors will slowly reduce her medications so they pregnancy can progress naturally. Once the medication schedule has been completed an a heartbeat has been confirmed via ultrasound (usually around 6 weeks), the fertility clinic will release the surrogate and she will continue prenatal care with her own OB/GYN.
Delivery
Prior to baby's birth, intended parents and surrogates will work with their coordinator to determine a plan for delivery day. Details such as who will be in the delivery room will be discussed. Intended parents will plan their travel for the birth, and their return home with their new baby!
The surrogacy process can be long, but the reward at the end makes the entirety of the journey worth it. There are many details along the way that need attention, as well as legal paperwork. Many intended parents choose to work with a surrogacy agency to help with the planning and management of the surrogacy journey, as it can be time consuming.
If you're interested in learning more about the surrogacy process, and building your family through surrogacy, contact us.